07/22/2007 23:28
Whenever you think of taking a landscape photo you typically reach for your wide-angle lens. Well, Sometimes it is not necessary.
On a recent outing, it was a pretty bleak winters day - the sun was behind dark clouds all day and it threatened to rain, but I went out and hoped for some reasonable photos.
I took a lot, but there were a few stand-out photos from the day and all but 1 of them were with a moderate to long lens.
I headed down the South Coast from Adelaide and along the way stopped at various beachside suburbs to take a few photos.
The first was from Snapper point, Aldinga Beach, looking north, back towards Adelaide.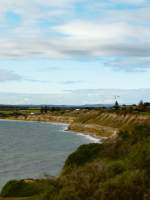 This image was taken, like most on the day with my 50-200mm Zoom (remember, this is equivelent to 100-400mm on a 35mm film SLR).
Focal length was 50mm and I chose to take this shot in a portrait orentation. I shot this at a very large F2.8 Aperture as I wanted to ensure that most of the foreground was Out of focus - I was trying to emphasise the vast distance of Cliffs and rugged coastline.
A bit further down the Coast, at Sellick Beach I took more photos.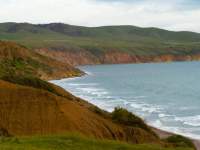 This photo was also taken at 50mm and the reason I chose this focal length was really more about using the appropriate lens to "crop" unnecessary elements from the scene I was trying to capture. I used a much smaller F7.1 aperture to try and get most of the near and middle-ground sharp in focus as possible.
In the foreground was a car park and a railing, to the left there were houses, the sky abouve was just more of the same grey clouds, and to the right the coastline just got lost further in the haze.
So, By using the Appropriate lens that gave me the FOV required I managed to capture the best scene that I could.
A short walk from the parking area where this was taken gave me the opportunity for another scene that was equally appealing in a number of ways and is actually contained within the above scene.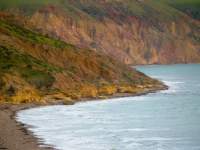 This time I shot at 158mm. By using this focal length I managed to avoid several distracting parts of the scene. In the foreground there was a large sign on the pebble beach and very close to the top left and right corners the pipes that runs over the hills were visible.
Even though I shot with a very large F3.5 Aperture the part of the scene I wanted sharp was. It was really more about selecting a suitable shutter speed as I was shooting hand-held and in order to get it fairly fast, I ended up with a wide aperture.
The foreground beach leads to the sharper rocky coastal headland and then onto the distant coast that is slightly hazy and also slightly softer. It was more by good luck that the chosen wide aperture assisted in further isolating the scene.

The slight haze in the distance give the impression of a light fog, even though this scene was shot in the mid-afternoon. I just had to wait until there was a slight break in the clouds and the light was a bit brighter than it had been.
The cohice of focal length for these scenes was more about isolating part of the scene than anything else. By using a long lens I was able to capture the detail of each scene in a way that would have been totally lost if I had chosen to use a short lens.
So, next time you are going out to shoot landscapes don't forget to pack your telephoto lenses as well, especially if you are visiting a new location. You just may end up using a longer lens than you first anticipated.